How To Quit Smoking – Julian Leicester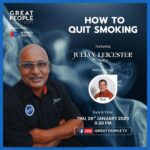 Julian Leicester is a well-known mindset and behavior change expert who has received national recognition. He is a best-selling Amazon author as well as a clinical and corporate quit-smoking and vaping specialist.
In this week's GPTV episode, Julian talks to Host Ben Ibrahim about how to effectively quit smoking and vaping, reinforcing ones commitment to health in 2023.